7. Beware the Family Friendly Label (unless you're really REALLY good at it).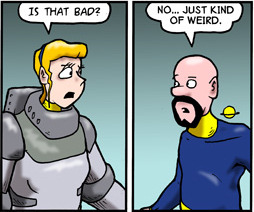 Howard Tayler
is one of the
heavyweights in webcomics
, and he's pretty damn successful at it. He's managed to
make a daily strip run for seven years
(and the majority of the past four without fail), he's sold books, done cons, gets his stuff to go for hundreds to the right fans, and manages to do it well enough to
support a sizable family on the profits
. He clearly
knows what he's doing
when we works on this stuff.
He also, apparently, gets
flustered at fake ads referencing Orgasms-Per-Hour
and random mothers of young children giving him crap because of said ads. As much as I hate to inject myself into the obvious drama this has brought to his fanbase, I can't say that 'orgasm' is a dirty word most kids would even understand (as opposed to something they already recognize is a bad word, like 'cunt'), and quite frankly I'd rather have a young child looking at an ad and realizing
it's aimed at older people
(thus ignoring it), than the previous ad which was talking about creepy old men who can erase your memories and also happen to be
driving schoolbuses
. Apparently it's okay to
scare the crap out of young children
and make them afraid of schoolbus drivers, but not okay to let them see the word 'orgasm'.
But, as I said, Mr. Tayler knows what he's doing, and I know why it's got him in such a righteous snit:
he insists on total control
over which ads appear on his site, while BlogAds refused to give him that total control, and this makes sense that he would be upset with them over such a distinction along with their
bait-and-switch tactics
. He also insists on a family-safe label as well, however, which makes sense for
him
and
his audience
, but not necessarily with the same universal approval. Then again, he's also someone who's been running for the past seven years on a daily comic; that kind of longevity gives you the power
to dictate your own terms
pretty damned well, and he is more than entitled to maintain whatever standards he likes.
I bring up Mr. Tayler and his recent drama as a pair of examples; On the one hand, we have a man who is clearly both good at his job and successful by webcomic standards. On the other hand, he's also bound by a stricter set of guidelines than the average artist, and as a result he has less flexibility to do what he wants and has to maintain that extra sense of vigilance over ads he deems inappropriate. The message is in the method:
If you try to make things safe, you're causing yourself extra work later on in order to maintain that illusion of safety.
Family-Friendliness isn't the 'natural state of the internet', so to speak, and without a certain sense of what's good and what isn't (or your own personal
canary in the coal mine
to let you know what's what), you run the risk of making things 'too safe' and the resulting material has no effect whatsoever. If you need a certain amount of color to your humor, there's not much point in trying to 'dilute' it to make it 'family friendly' when such a distinction
kills the joke
.
This statement ties back to a basic Comic Commandment:
Know Thy Audience.
It doesn't shock me that
a father with several small children
insists on having a comic meet these
Family-Friendly standards
. It shocks me significantly that a college graduate in his mid-20s
aims for one too
, especially as it's meant for a nostalgic audience. When you aim for a niche audience (which, let's face it, being kid-safe is a definite niche), you give up some of the affordances having a webcomic often gives you, and require the rest of your work to pick up the slack since you can't just "go to the well".
As for my own work? I freely admit
Last Resort
isn't meant for a children's audience
. There's no real way a story about a bunch of condemned criminals walking into their deaths (and that's without adding in the vampire elements...) is going to BE family-friendly, either. I can swap out a few of the invectives I use in the comic and censor it down to a PG level, but quite frankly I'd rather leave them in as
fair warning
about the level of violence and plot therein.
Family-friendliness means people don't die on-screen. Family-friendliness means you keep a minimum amount of clothing on. Family-friendliness means you can't let your characters say whatever they feel like. Family-friendliness means you don't have references to 'satanic' creatures like vampires, apparently, but that's a whole other complaint about people confusing
Family Values
with Christian don't-rock-the-boat Values. Eventually you realize that the Family label is just like the Adult label: once you accept it, you start locking yourself in and squelching your creative energies.
Given the choice, I'd much rather define the label than let the label define me.
Labels: audience, comics, commandments, content, tips